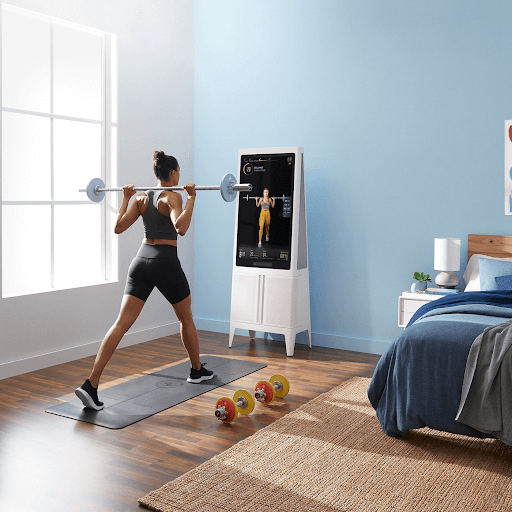 Getting fit is one resolution we make every year that hardly ever gets checked. The gym membership card is now stuck to your wallet because it never gets taken out. The workout clothes? Are still bright and new as they are hardly ever worn.
I'm sure you have a ton of reasons (I won't say excuses so I don't come across as judgmental; because, the truth is, I'm as guilty as sin) why you couldn't achieve this feat. But hey, it's time to put your health above all else. If going to the gym seem a herculean task, get the gym to your house. 
Here are some easy home gym design ideas and tips to help you get in shape at your home. I don't know about anyone else, but home gym is a better option in my opinion. There are fewer distractions and freedom to work at your own pace.
A gym can be designed in your bedroom, old garage or balcony, if it is large enough. Since most of the equipment you probably need are heavy, it's advised to check whether the floor can withstand the weight. Gyms on the ground floor are always a better option. 
This said, treadmills and other heavy gym equipment are great, but if you don't have them, you can improvise and make do with what you can get. Anything with which you can burn up energy can find a place in your gym; even a jump rope.
Let's see some designs that can help you set up a gym in your home.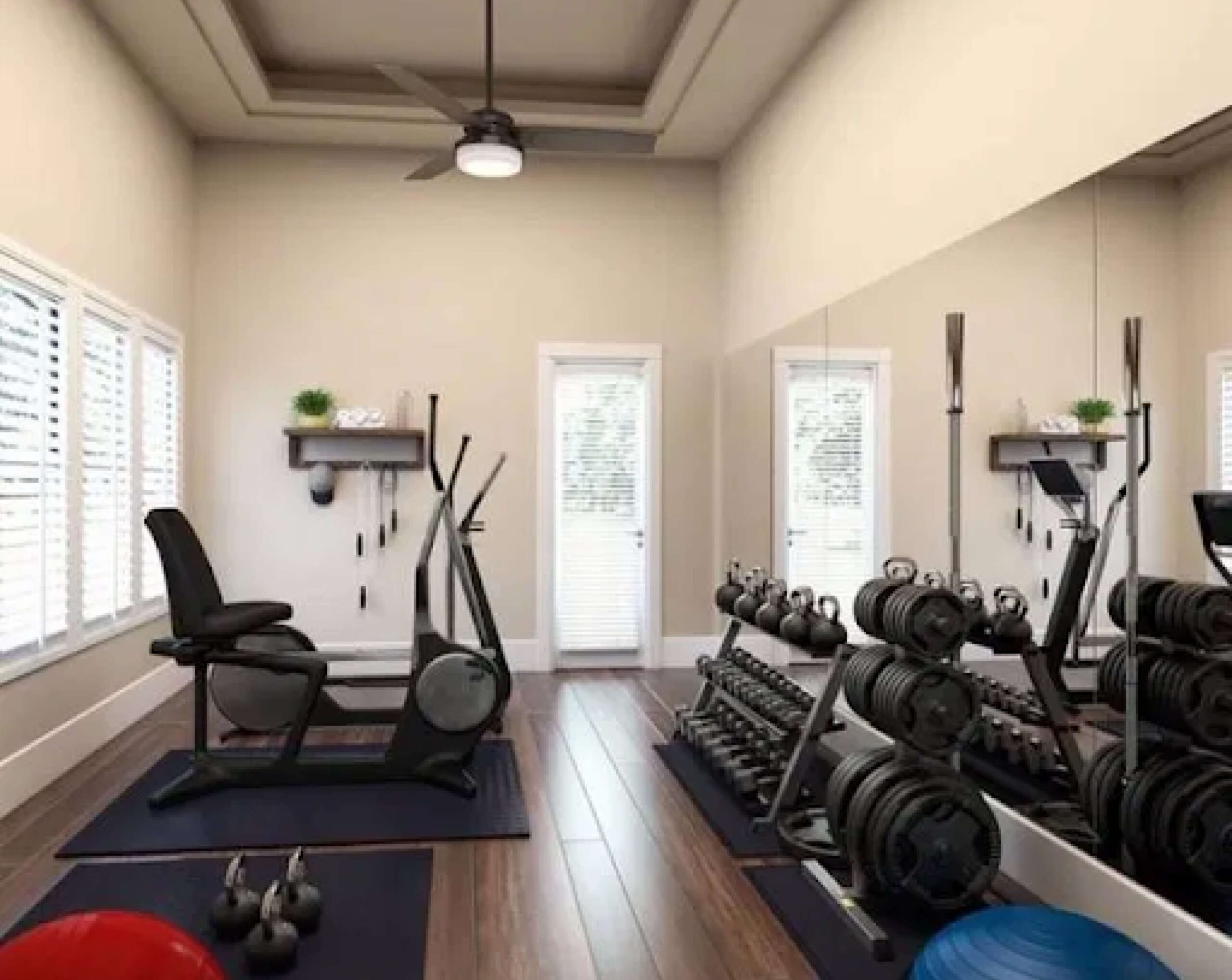 The room is turned into a gym in the easiest way possible. A treadmill, stability/balance ball and a Pec deck machine are all that is needed to create a home gym. The room, provided with ample ventilation is surely one of the ideal places to set up a gym. A point worth mentioning is the use of carpet under the treadmill. Although it is always better to have separate high grip carpets for all gym machines, treadmills, in particular should not be operated without a carpet beneath it.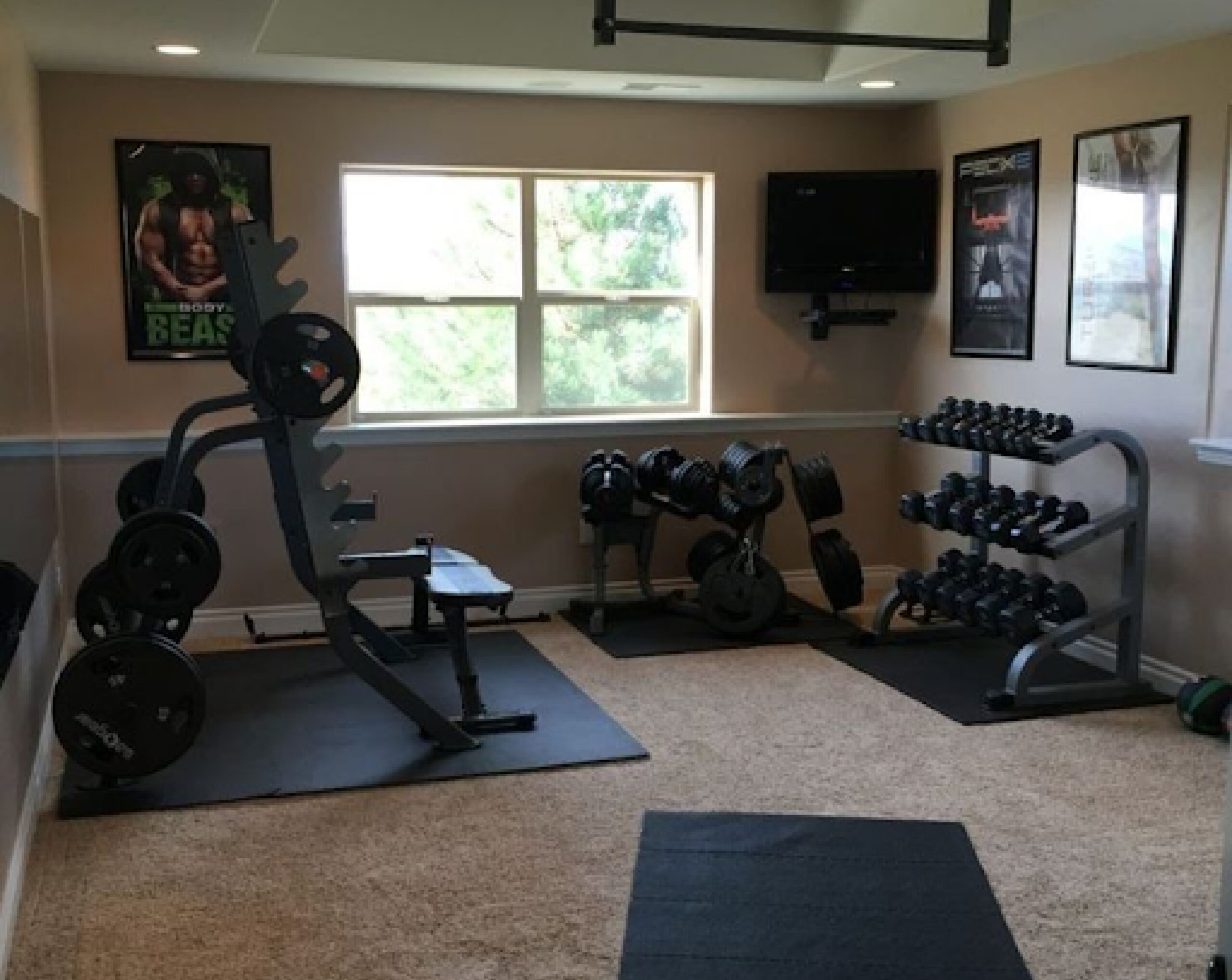 Sometimes, the equipment is too huge for any of the rooms we have planned to turn into a gym. In such cases, the rooms look over crowded and do not provide an apt atmosphere. Sufficient lighting and huge windows are then something to lean on, for a better, open feel. To make it feel a lot comfier, wall décor in bright colours wouldn't be a bad idea at all.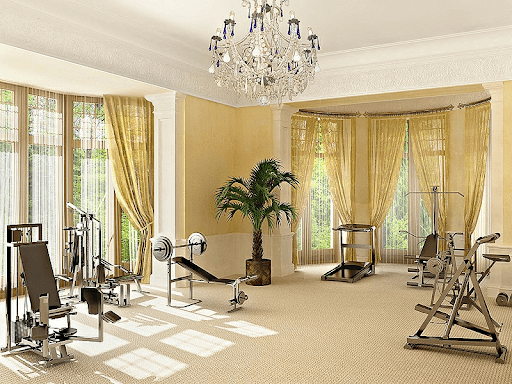 The room is well furnished for the sole purpose of working out. As working out can easily exhaust you, it is always recommended to keep the space airy and open. Large mirrors are one clever idea to create virtual airiness. Mirror also helps to know whether you are doing it the right way.


For those who don't want to work out in a secluded room, the entire house stands as an option. The design above shows how working out can be a lot more fun when the space is adjoined by the living/entertainment area. And oh…lest, I forget, it goes without saying that a well-lit room goes a long way in keeping your spirits high. Knowing this, you may want to ensure that your home gym is not dimly lit.  
This home gym is not for all. The design above is for the hard-core fitness freaks – the ones who need 'everything at once'. Sometimes, random arrangement looks better than a neat and tidy one. With a lot of fitness equipment stuffed into one room, the room is a complete one-stop fitness haven, which surprisingly does not look crowded but cool.
Visiting our showroom at 30, Adeola Hopewell Street, Victoria Island could give you the inspiration you need to prepare for your home gym.
 You could also call us on 0903 305 0000, or email us at askme@theclassroom.ng 
Did you find the article useful? You can stay updated and get more inspiration by subscribing to our monthly newsletters: